Christmas Events and Decorations
Since 1996, we have been sharing the festive spirit at UK Christmas markets with our award-winning Christmas market stalls and starry displays. Our handmade paper lanterns are crafted from responsibly sourced paper and come in a variety of colours and designs, perfect for creating a warm and inviting atmosphere for your guests.
Christmas Markets
At Paper Starlights we've been sharing the light at UK Christmas Markets since 1996 when we set up our very first Christmas sideshows in Leeds, Halifax and Manchester. Every holiday season, city centres and tourist destinations across the UK are transformed into festive experiences – and we love being part of them. Our award winning Christmas market stalls are well known for their visual welcome to market visitors. Come and meet us at our Christmas events and be part of the experience!
We love selling stars, and being a part of people's Christmas experience. And as established film, TV, set and location decorators, we also love putting on a show! Our starry displays are regularly featured in the press and on TV and shared across social media.
But don't just take our word for it - see for yourself why Paper Starlights is the go-to choice for Christmas markets across the country.
Contact us today to place your order and make your festive event shine this season!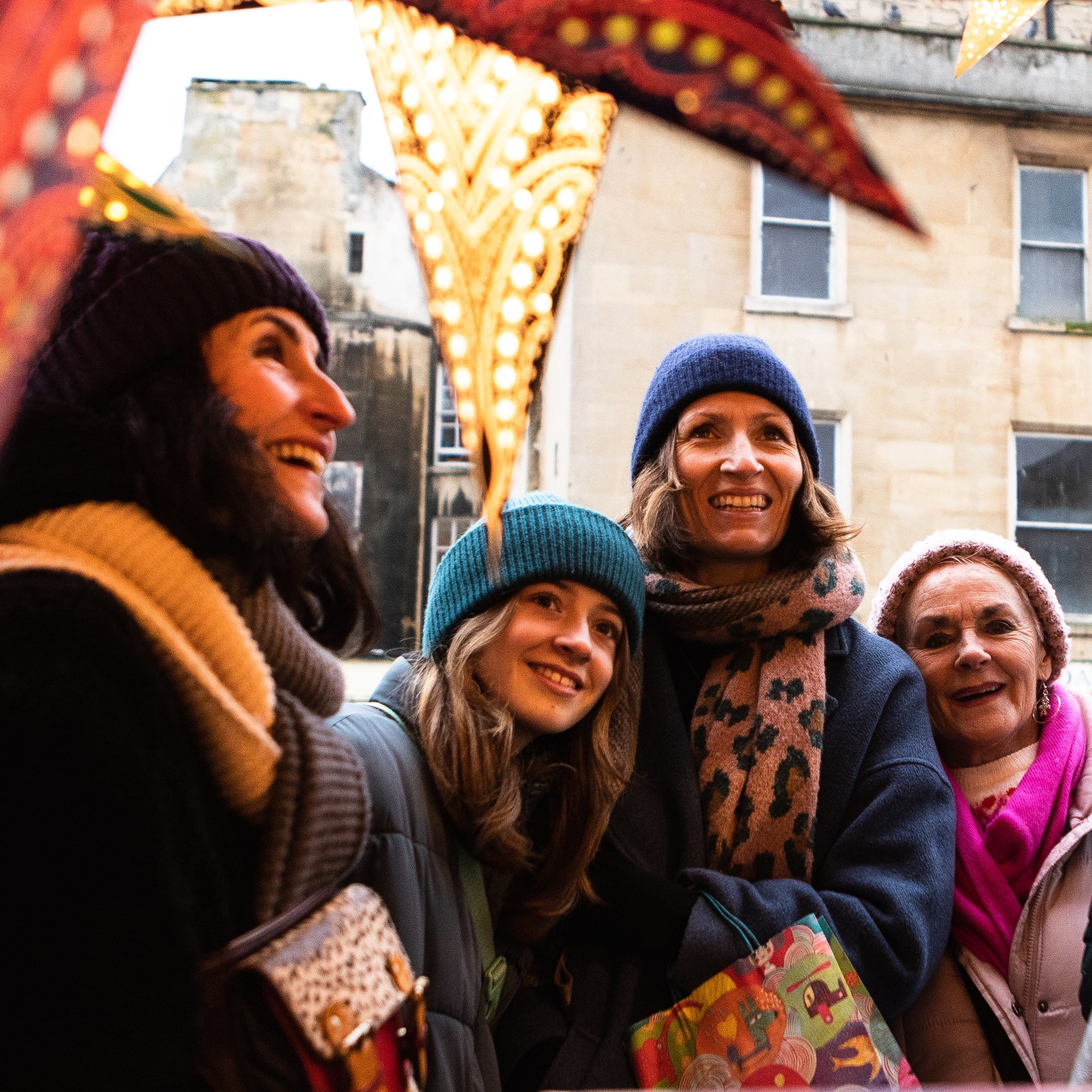 "Our whole family love your stars. Every year we hang a new one in our window at Christmas"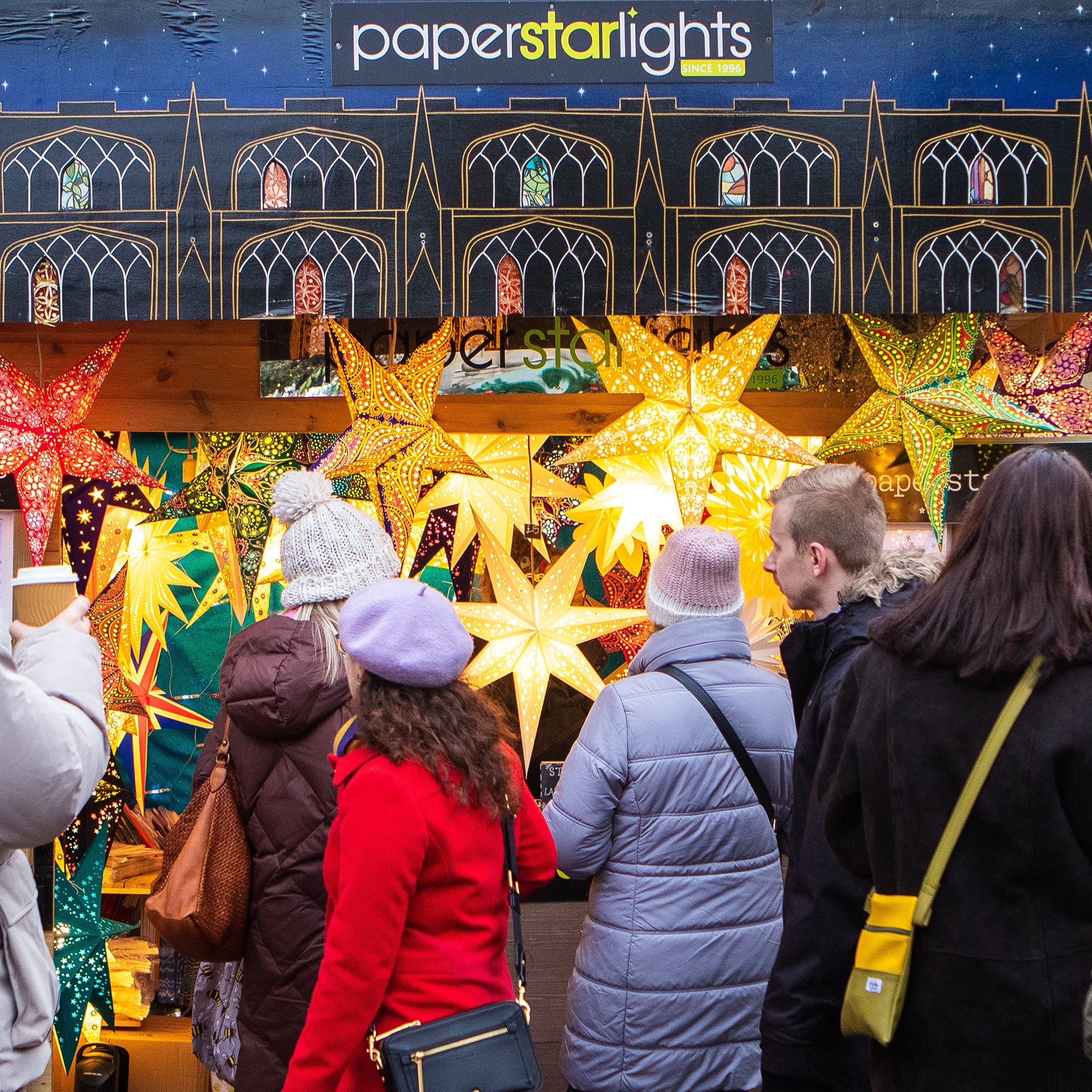 The best Christmas market stall in the UK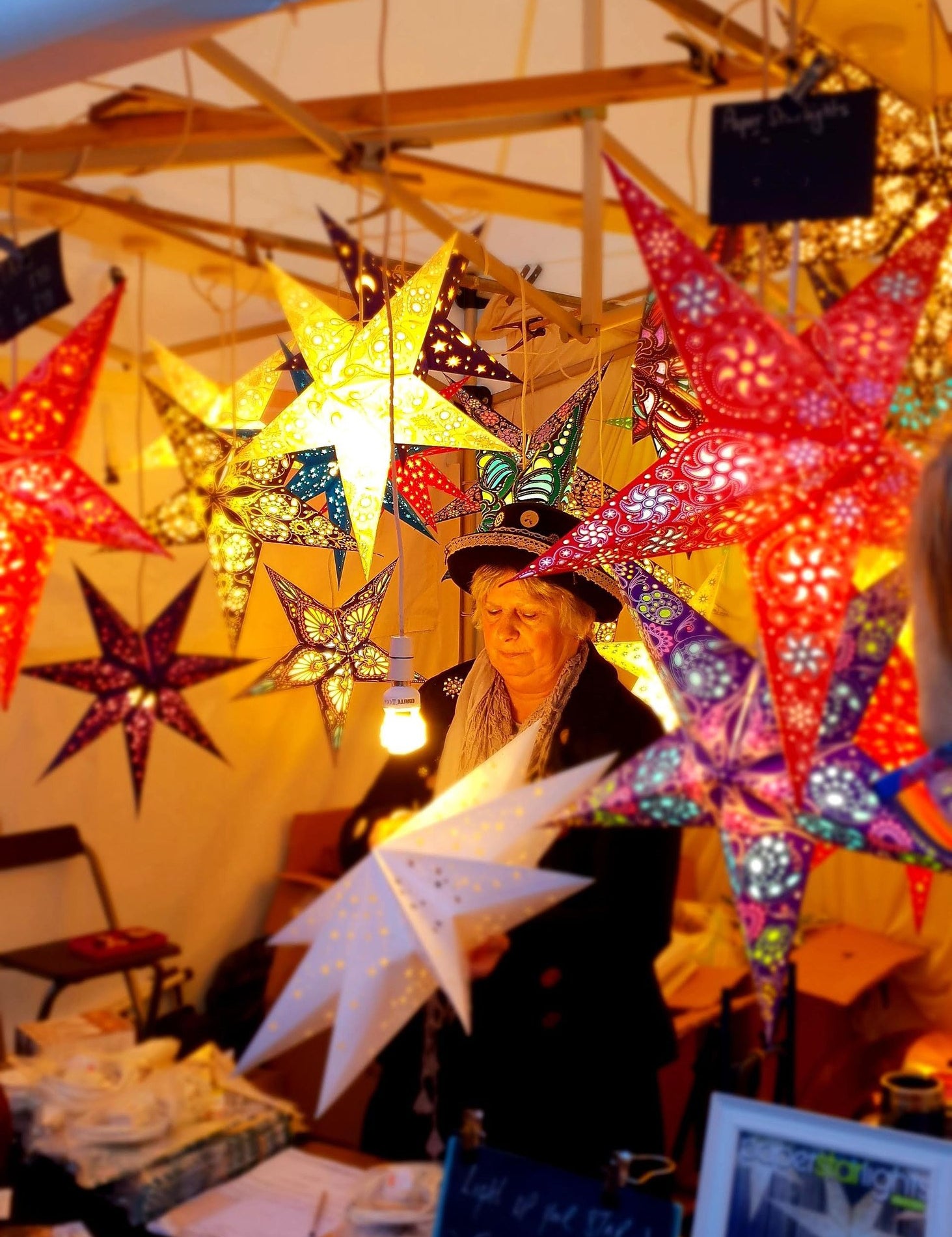 "Every year for the past 20/30 years I have been to Lincoln market I have walked down the slope coming from the castle and admired your stall it is such a welcome treat to the eyes, especially if it's getting dark to see those beautiful stars hanging and looking beautiful! For that I thank you!"
Christmas Events Decorations
We understand the importance of creating a festive atmosphere that will delight your guests and make your event truly memorable. That's why we offer a wide range of Christmas star lanterns that are perfect for any occasion, from large corporate events to intimate family gatherings.
Our handmade paper lanterns are the perfect addition to any festive event, creating a warm and inviting atmosphere for all your visitors. Made from responsibly sourced paper and carefully crafted by our skilled artisans, our lanterns come in a range of colours and designs to suit any theme. Not only do our lanterns create a beautiful ambiance, but they're also environmentally friendly, as we use sustainable materials in our production process. Plus, they're easy to assemble and store, making them perfect for those on-the-go events.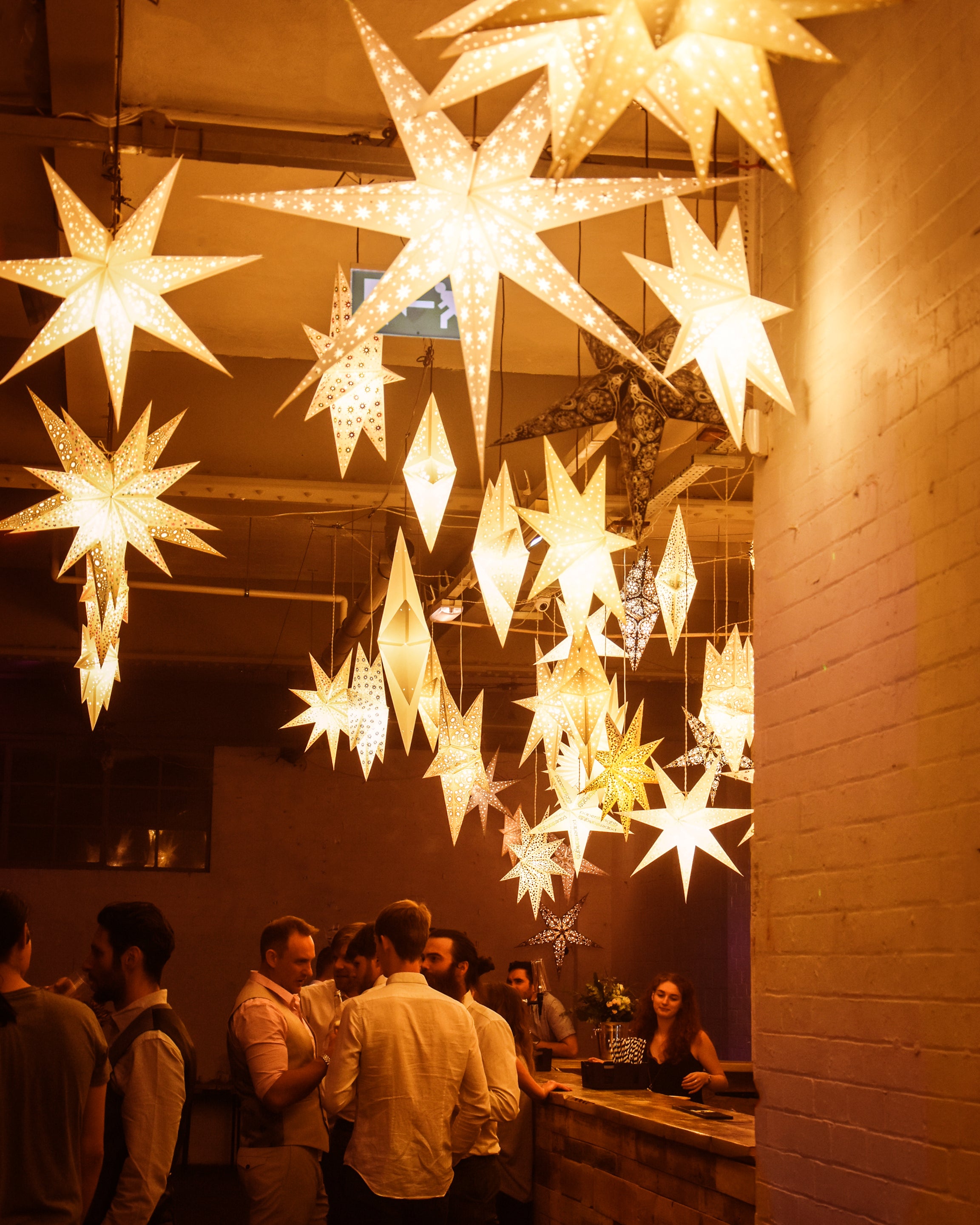 At Paper Starlights, we pride ourselves on providing exceptional customer service. We work closely with our clients to ensure that their event is a success, providing support and guidance throughout the process. Our experienced team of professionals will work with you to create a bespoke package that meets your specific requirements.
Contact us today to find out how we can help make your Christmas event truly magical with our beautiful paper star lights.
Christmas Trade Account
Welcome to Paper Starlights, the go-to brand for stunning Christmas star lanterns, that will transform any space into a magical wonderland. We take pride in our exceptional range of stars that are guaranteed to make your festive season unforgettable.
As a trade customer, you can now enjoy exclusive access to wholesale prices on our extensive range of Christmas paper star lanterns. With our trade account, you can save big and get the best deals on all our products. To sign up for a trade account, simply fill in our online form and our team will get back to you as soon as possible. Once your account is set up, you'll have access to our full catalogue of Christmas stars.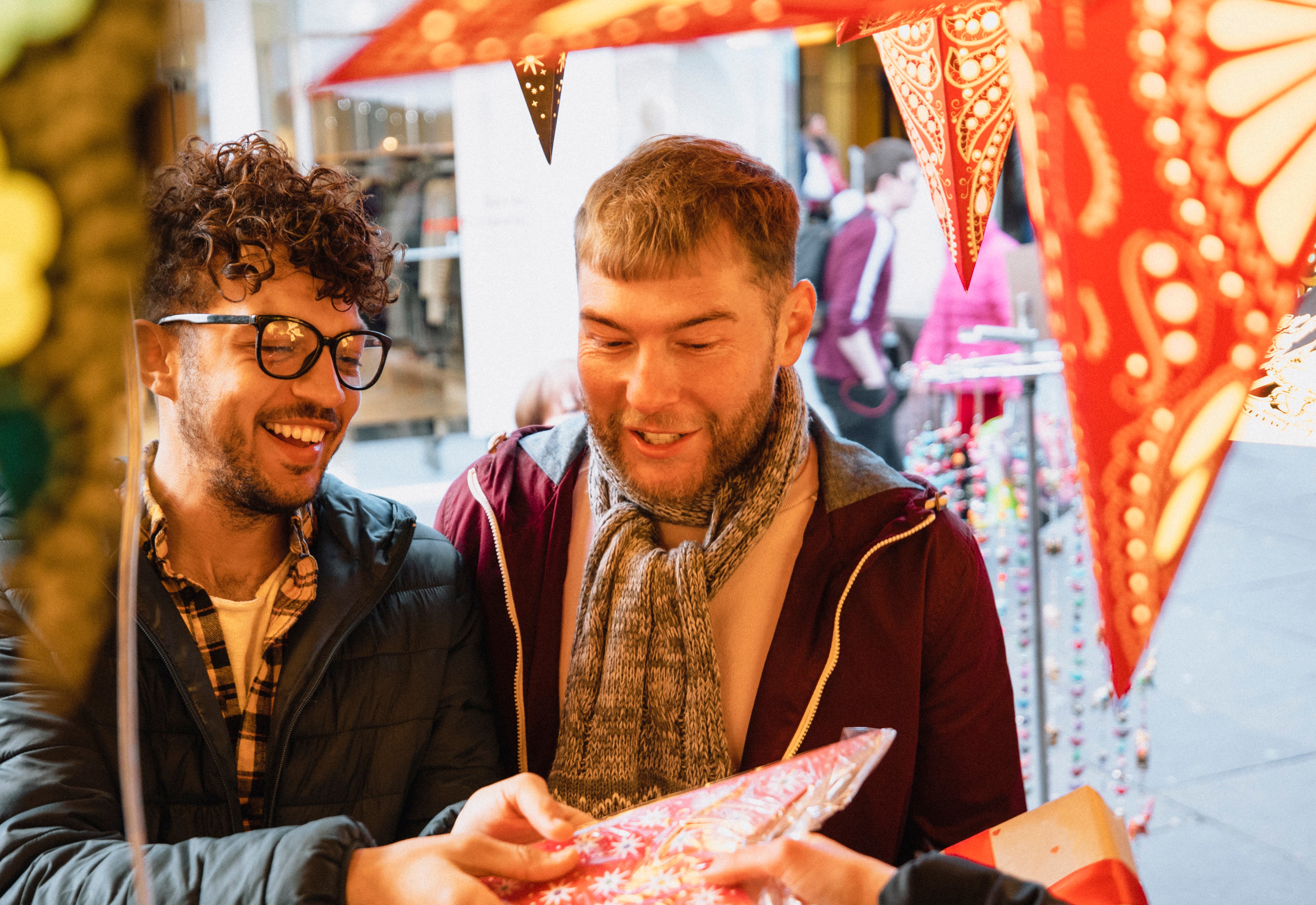 Our products are designed with love and care, using responsibly soured paper. Whether you're purchasing for a boutique shop or enquiring about being one of verified Christmas market franchisees, our range has everything you need to create the perfect festive atmosphere.
So why wait? Sign up for a trade account today and start enjoying the benefits of discounted prices on our gorgeous trade Christmas decorations. We look forward to helping you make this Christmas one to remember!