Ready to Make Magical Memories?
Transform your Space with Paper Starlights

Love and Light Since 1996
Share The Light
Explore our 2023 winter collections, spanning from Diwali festivities to Halloween, Christmas, and all the special moments in between.
There's a shining star to suit every taste!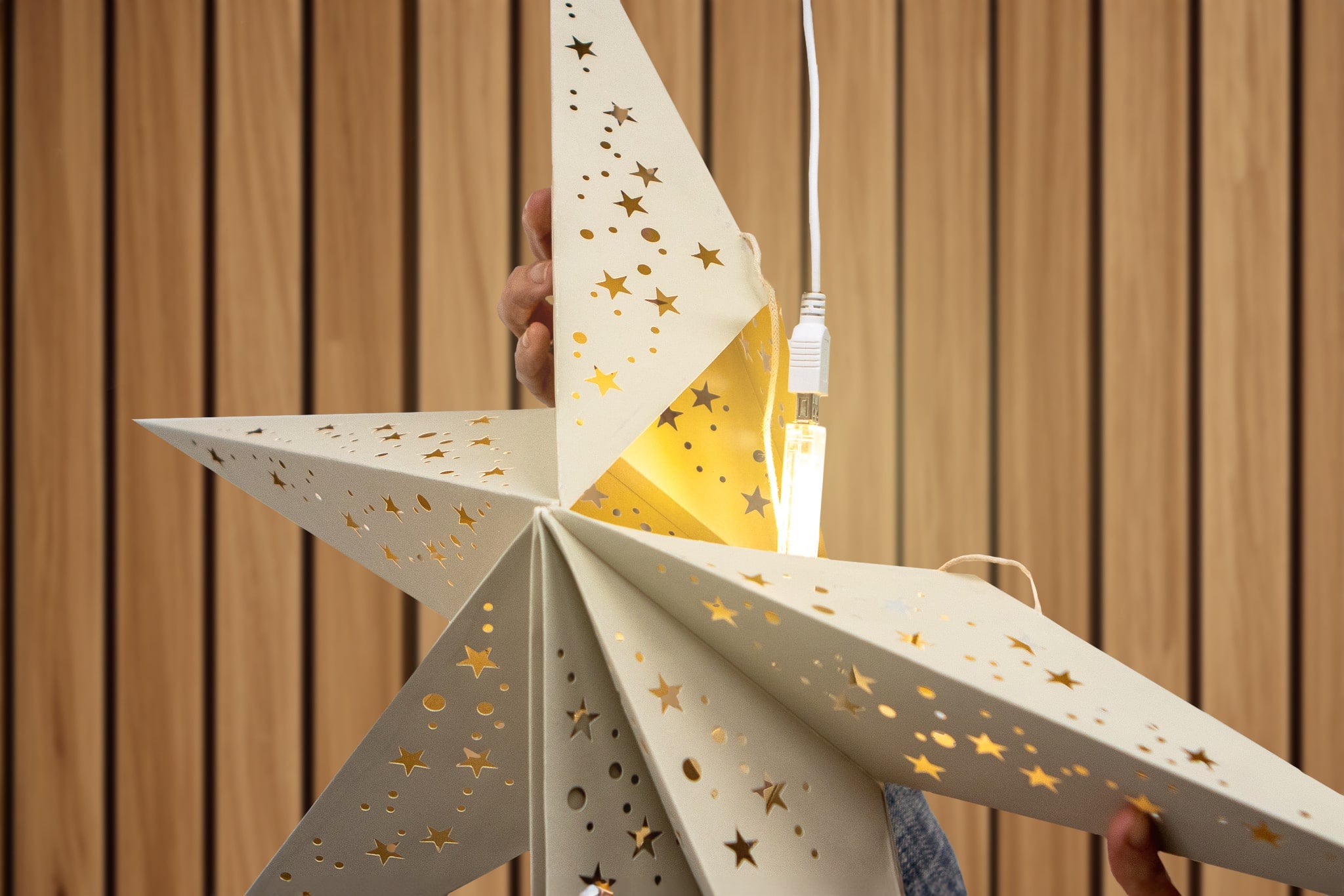 Exclusive: Ultra Low Energy USB LED Lights
Elevate your ambiance with a soft, warm white LED glow that transforms any space into a mesmerising haven.
Our new USB light brings life to your paper star lanterns with its detachable 4-metre cable, offering flexibility for effortless positioning.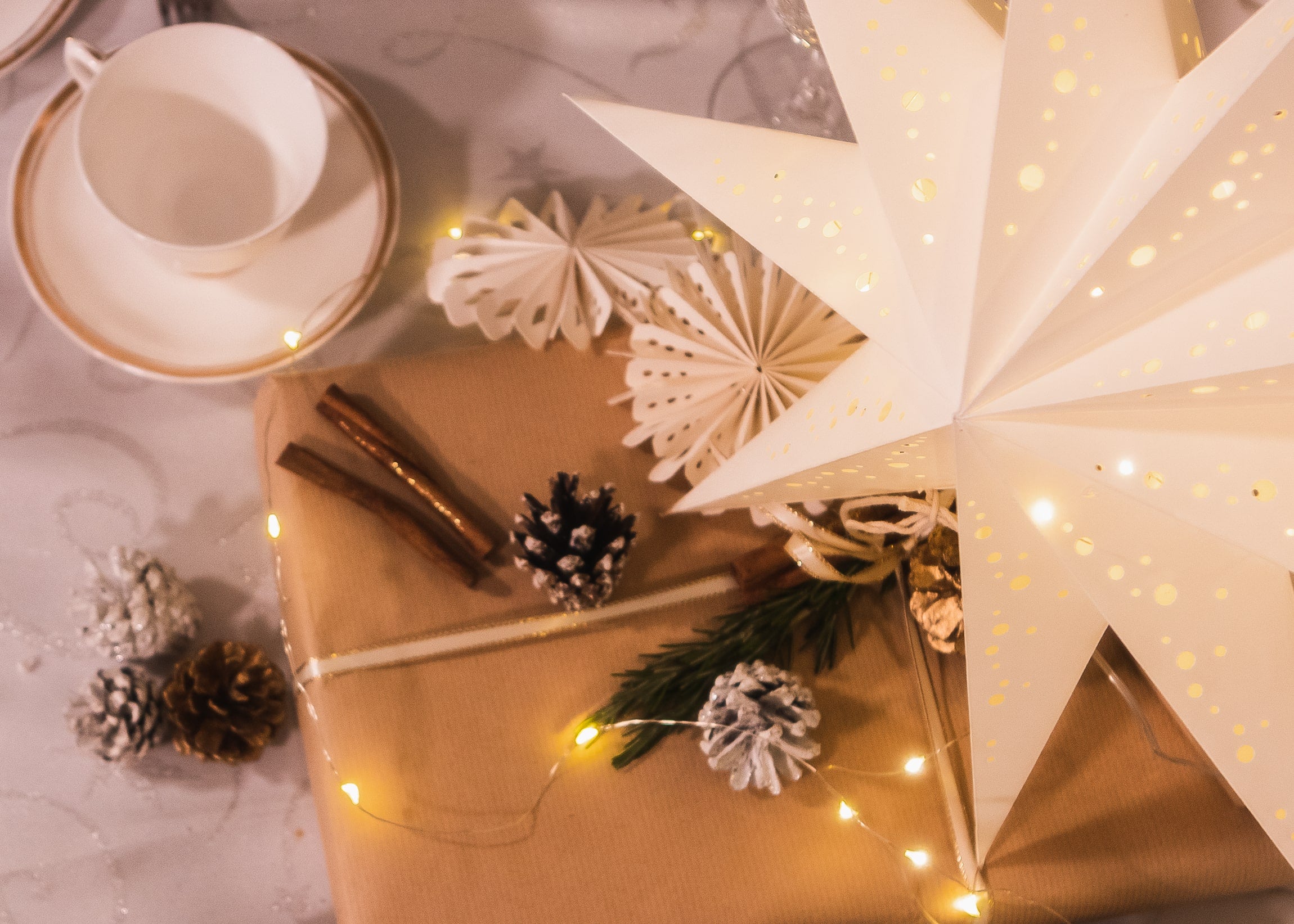 Christmas Essentials
It won't be Christmas without Paper Starlights
Elevate your Christmas with the enchanting glow of Paper Starlights. Handmade with care, our fair-trade star lights bring a magical festive atmosphere to your home. Cherish unforgettable moments with loved ones.
About Us
The Original Paper Starlights
Paper Starlights, lighting up gatherings since 1996. Our star lanterns spread joy and enchantment for nearly 30 years, creating cherished memories. We're on a mission to share their magical glow.
Crafted for a quarter-century, our stars, made from natural materials, shine with artisan care. Limited runs, seasonal collections, and ethical practices ensure unrivalled quality in design and luminescence.
Frequently Asked Questions
How Do the Stars Work?

Your star will arrive flat packed.  You simply open the star up one point at a time and tie the two cords together to form a perfect star.

Instructions are provided with each lantern and you can watch a video which shows you how to open and hang it.

The stars are designed to tie over a light source of your choice. The light source can either be battery operated or mains power, and can be purchased separately. Here are some ideas and recommendations below (you might already have some fairy lights!)
How Do I Light Up My Star?

As our stars are British Standard tested as lampshades, you can use them as you would a lampshade with electric lightbulbs and LEDs over a standard pendant light fitting

Or as a lantern with a set of battery operated LED fairy lights inside – either hang the star, or invert over a lamp stand for stability. Make sure the fairy lights are battery operated - electric wouldn't be recommended due to the heat output and contact with the star. Many of our customers have been in touch to say they've used stands available from JYSK.

Our stars also look fantastic unlit as 3D decorations.

To preserve materials, we encourage using our stars over a light source you may already have – but we do supply cable kits and fairy lights just in case you need them!

Our stars are perfect for use indoors, or in dry outdoor environments
How Are the Star Lanterns Made?

Each star light is handmade with great pride using good quality weight paper, with a superior finish.

The production process is traditional and non-mechanised; each section of the star is printed using traditional methods, the perforations in the design hand punched, the tissue paper cut and fixed in place by hand and the star assembled using geometric skill and accuracy.

Each star is then carefully checked before being packaged. 


Due to this non-mechanized process, there may be tiny inconsistencies in shade and design, which should not be viewed as flaws, rather as evidence that they are hand-made by real people not machines! 
Are They Safe?

Yes, all Paperstarlights' lanterns are British Standard tested and comply with BS EN 60598-1: 2008.

Each star light comes with full assembly instructions and there is also an instructional video here 

Just make sure that the wattage of your light bulb does not exceed 40 watts - we recommend LED lamps between 1.5 – 5.5 watts. As they are paper stars, your star light should not be used with a candle and should be kept away from naked flames.

Original and Magical
Illuminating gatherings since 1996, creating magic, elevating everyday moments beneath stars.
Beautifully Handmade
Crafted with care, Paper Starlights prioritises quality over quantity in seasonal collections.
Delivering Quality
Free UK delivery for £50+ orders and trackable. Have any questions? Get in touch with us
Swift, Secure Checkout
Eliminate Ordering Stress with Our Effortless, Safe Checkout.